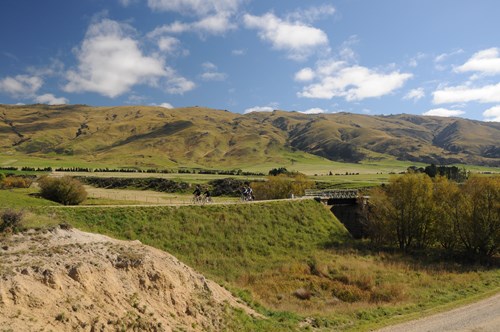 GETTING TO THE RAIL TRAIL AT MIDDLEMARCH
Dunedin to Middlemarch on board the Taieri Gorge Railway

Rated one of the world's best train journeys, it's no wonder the Taieri Gorge Railway is the recommended 'must-do' mode of travel from Dunedin to the Middlemarch start of the Otago Central Rail Trail.
Most days the train travels from Dunedin to tiny Pukerangi Station, 20km south of Middlemarch. The train's popularity means lots of bike hire and other shuttles run between Pukerangi and Middlemarch.
Summer months (October through April) departure times from the magnificently ornate Dunedin Railway Station to Pukerangi are 9.30am and 2.30pm, arriving at 11.35am and 4.35pm.
From May through September (winter months), the train departs Dunedin at 12.30pm, arriving in Pukerangi at 2.35pm.
The Taieri Gorge train does go all the way from Dunedin to Middlemarch most Friday's and Sunday's from October through April, departing 9.30am, arriving at 12.30pm.
Most Sundays over winter, (May through September) the train departs Dunedin for Middlemarch at 9.30am, arriving at 12.30pm.
Should you land at Dunedin Airport and want to get on to the Rail Trail pretty much straight away, consider boarding the train at Wingatui (a short taxi ride away). But doing this of course depends on flight arrival times with the train's arrival at and departure from Wingatui. Our advice is to phone Dunedin Railways at 03 477 4449.
---
Bus Services Dunedin to Middlemarch
Catch-A-Bus provides services to Middlemarch from Nov 1 to April 30. Please look at our Bus Time Tables.
---
Rental Vehicles
Rental vehicles are available at Dunedin Airport and in Dunedin itself to self-drive to Middlemarch. An idea - especially when wanting to do the Rail Trail with a non-cyclist - can be to hire a rental as a support and side-trip adventuring vehicle. See our 5 Day Itinerary to see for yourself how much a support vehicle can add to a Rail Trail experience.
---
How's this for an idea
Fly into Dunedin Airport, do the Rail Trail and then depart for home from Queenstown International Airport. This gives you a round trip and with it the golden opportunity to experience Queenstown's many and varied attractions.
---
Don't Forget
Spend at least a few hours exploring Middlemarch will surprise you with how much there is to see… from outdoor artwork to the remains of an historic submarine built for mining gold river beds to New Zealand's only salt lake.