Clyde to Alexandra   Distance: 8 km
From the Clyde Historic Precinct, along greenways and then through the State Highway 8 Daphne Hull Underpass will get you to the Clyde Trailhead. In the underpass do pause to admire the fantastic Bruce Potter mural lining the walls.  
Free long term parking is available at the Trailhead. There is also a well-maintained public toilet block.
A highlight on the Clyde-Alexandra section is the 109 metres long and 9 metres tall Muttontown wooden trestle viaduct.
After the Muttontown Viaduct you will see one of the last remaining signal arms on what was the Otago Central Railway.
On the outskirts of Alexandra, the Rail Trail runs parallel to the greens and fairways of the Alexandra Golf Club 18 hole course.
Clyde Train station
In the township of Clyde the Train station still exists on its original site. It is now a Shebikeshebikes depot.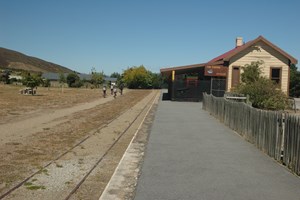 ---
Underpass Tunnel
Cyclists can now use the newly opened underpass without the stress of closing SH8.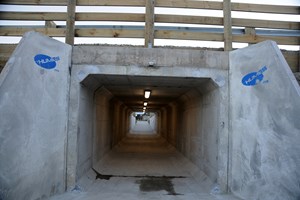 ---
Muttontown Viaduct
A highlight on this section is the wooden trestle Muttontown Viaduct which is 109 metres long and 9 metres high.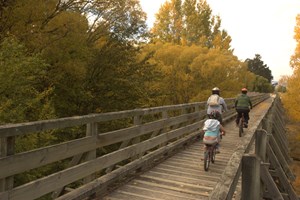 ---
Signal Box
After closing Muttontown Viaduct you will see a Signal box.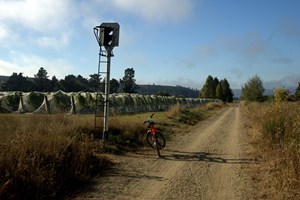 ---
Anniversary River Track
Cross the Clutha River at Clyde and follow signs leading to the Anniversary River Track running parallel to the Clutha River. This very scenic track follows the river to the Alexandra Bridge and you then have to cycle through Alexandra onto SH85 (to Ranfurly) where after a short distance the Rail Trail crosses the road and you can rejoin the trail.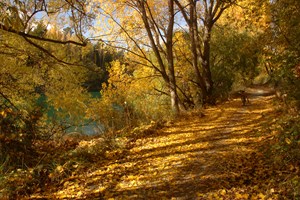 ---